How do we manage it, and who is responsible for the fight against counterfeit?
The International Trademark Association takes a view that "Governments at the national and international level must strengthen anti-counterfeiting laws and enforcement, and cooperate more effectively to eliminate linkages between counterfeiting and organized crime and serious threats posed by counterfeiting to the health and safety of consumers, economies and national security."1
They have also reported that the global economic value of counterfeiting and piracy could reach $2.3 trillion by 2022 in a recent report commissioned by the International Trademark Association (INTA) and the International Chamber of Commerce.1
A key conclusion of the report was that the payoffs from investing more to control counterfeiting and piracy would yield an additional $30 to $54 billion in growth in the OECD economies in 2017 alone.2

So why don't big global numbers result in big global policy and policing?

Whilst the global economic impact on countries is significant, the effort required to coordinate a global response is more daunting. At the end of the day responsibility for protecting local economies and public safety starts with border protection and ends with those companies or individuals who perpetrate or are affected by counterfeiting.
When it comes to public safety, even as we saw in China in the milk powder scandal, governments are most likely to act in the face of public opinion or outcry – even when the country is itself the world's largest base for counterfeit products.
However, when it comes down to a matter of buying a counterfeit product without significant risk to consumers, the economic cost to companies is largely lost.
Only a very small % of goods entering countries are inspected by border protection agencies (13% of goods entering the U.S. are inspected by Customs) which results in an extremely small amount (2%) of counterfeit goods being seized.3
The commercial result? Companies simply cannot solely rely upon government agencies to protect against the theft of their IP from counterfeit.
What's the big deal? It's only a genuine fake watch.

That genuine fake watch is part of that soon to be $2.3 trillion-dollar problem. And when profits in counterfeiting are so high, note the estimated return for every $US 1,000 invested in the trafficking of counterfeit medicines, is $US 500,000, criminals will continue to roll the dice.4
So, the buck to protect profits, jobs and international business stops with you – who have the most to lose in both money and reputation form the theft of your intellectual property.
The financial returns are extremely lucrative for counterfeiters, while the associated risks and ramification for getting caught are far more lenient for counterfeiters than other criminal activity. In short, it's a growth industry, and one that each business must protect itself from. The more creative strategies involve companies like Nissan producing advertising campaigns to drive consumer awareness – the more practical solutions involve embedded identification in products, to authenticate through the supply chain.
What's your strategy?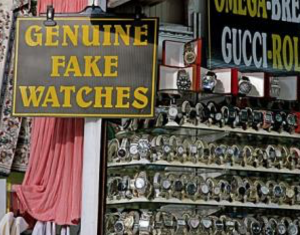 References:
http://www.inta.org/Advocacy/Pages/Anticounterfeiting.aspx
http://www.frontier-economics.com/publication/frontier-presents-report-economic-impact-counterfeiting-piracy/
http://www.iracm.com/en/